On Sunday afternoon, 69-year-old Paul Kessler was spotted waving an Israeli flag as dueling protests took place between pro-Israel and pro-Palestinian supporters. Exactly what went down a little later is still unclear, but we do know some core facts.
Jewish Man Dies in CA
We know there was some sort of physical altercation between Kessler and another person. Some have suggested a man threw his megaphone at Kessler. Video showed Kessler on the ground bloodied. A pro-Palestinian woman and others appeared to help him (though she was later seen laughing and smiling), and then the paramedics arrived.
While paramedics treated him, a man continued to shout anti-Israel slogans with Kessler's blood visible on the concrete. Kessler was taken away by ambulance. On Monday, he died.
The Ventura County Sheriff's Office says the medical examiner has determined the cause of death was, indeed, blunt force head injuries and the manner of death has been classified as homicide. So far, no one has been arrested.
The media coverage that we've seen just in the past 15 hours is right on brand. I would say it's shocking, but we both know it's not. I'll just show you a couple of headlines. Here's NBC: "Man dies after hitting head during Israel and Palestinian rallies in California, officials say."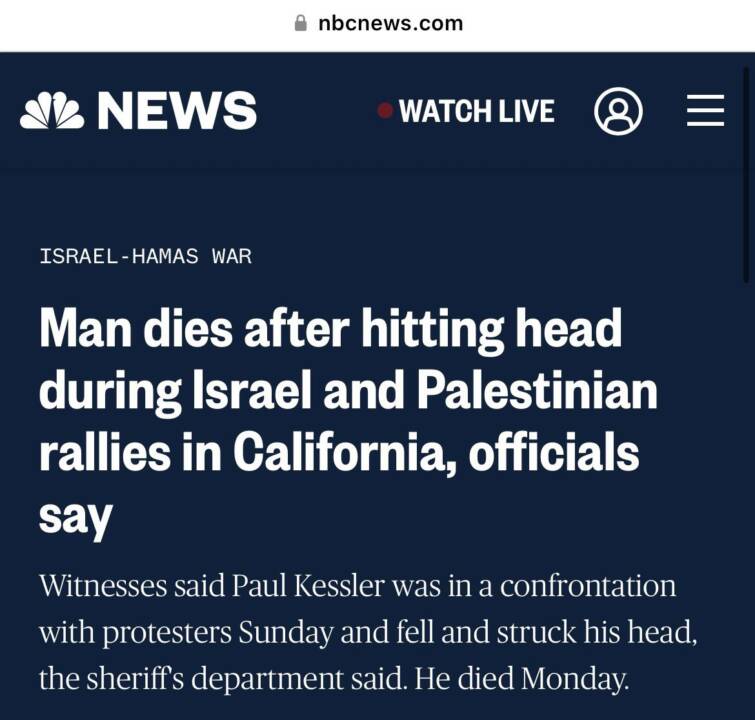 What did he die from? What do you mean he hit his head? What happened? Walk us through it. I think you're missing some things.
Here's the ABC7 local tweet: "Elderly Jewish man dies after confrontation with pro-Palestinian protesters in Westlake Village."
Again, what do you mean? Did he die from stress? Did he have a stroke? What happened? No, he died because they appeared to have hit him in the head with a megaphone, causing blunt force trauma that resulted in a homicidal death. That's what the medical examiner says.
Here's The New York Times: "Jewish Man Dies After Altercation at Dueling Protests in California."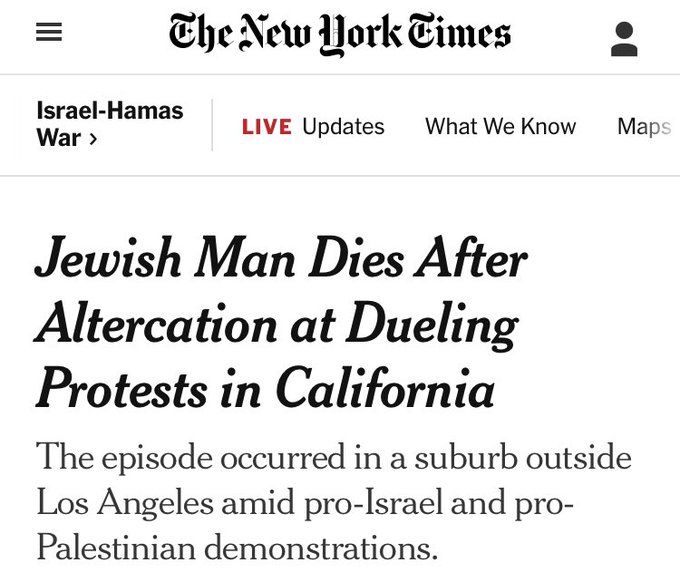 I mean, how about 'Jewish man was killed'? The Times, NBC, ABC – they never have this hesitancy when they're dealing with a BLM protester who got hurt or anybody who's perceived as on their side.
Antisemitic Attacks on the Rise
But this would hardly be the only incident of anti-Jewish hatred we have seen over the past month since Israel was attacked by terrorists. According to the Anti-Defamation League (ADL), there has been a 388 percent increase in antisemitic attacks in America since Hamas launched its attack on Israel exactly one month ago.
Just a few examples. On October 8 in Clifton, NJ, a car with individuals holding Palestinian flags appeared to intentionally swerve out of its lane, nearly hitting a Jewish family. In Indianapolis, IN, on October 12, a man carrying an Israeli flag was allegedly assaulted by a pro-Palestinian protester.
On October 15 in New York City, a person allegedly punched a Jewish woman in the face in Grand Central Terminal. When she asked why, he responded, "You're Jewish." We told you, for example, what happened outside of the Tulane campus in New Orleans, LA, when a young Jewish man was also punched in the face.
Antisemitism in Europe
Antisemitic attacks are also on the rise now in places like Europe, where they've had basically open border policies for the past 10 to 15 years. In Germany, Molotov cocktails have been thrown at a synagogue – Molotov cocktails, thrown at a synagogue – among other anti Israel incidents.
In the United Kingdom, there have been more than 1,000 reported anti-Jewish incidents in the past month, with 47 assaults. Schools and children have been targeted in France, which has the largest Muslim population in Europe. On Saturday, a 30-something-year-old Jewish woman in France was stabbed in her home. She survived, but a swastika was painted on her door.
This is a truly scary time for Jews in America and throughout the world, and yet we get lectured by this administration every other day on Islamophobia.
You can check out Megyn's full analysis by tuning in to episode 664 on YouTube, Apple Podcasts, or wherever you like to listen. And don't forget that you can catch The Megyn Kelly Show live on SiriusXM's Triumph (channel 111) weekdays from 12pm to 2pm ET.