A story that has been incredibly difficult to tell is getting even more challenging today. The fog of war and, to put it kindly, irresponsible reporting has led to chaos, violence, and canceled diplomatic meetings that actually could have helped prevent more death and destruction.
The Media Reacts
Shortly after the show ended on Tuesday, we started seeing reports about a hospital bombing inside of Gaza. The news was devastating. Claims from the Palestinians and their media enablers were that hundreds of people have been killed. The Palestinians said that Israel was responsible and – almost without question – the media and politicians on the left, in particular, took the news and ran with it.
This is just a small sampling of the headlines and the social media posts.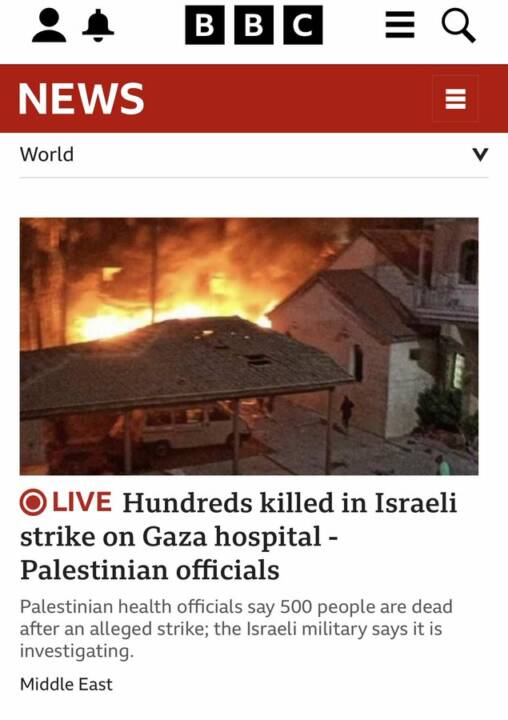 The BBC report was titled "Hundreds killed in Israeli strike on Gaza hospital – Palestinian officials."
CNN tweeted: "Palestinian health ministry says 200 to 300 people may have been killed in Israeli strike on hospital in Gaza."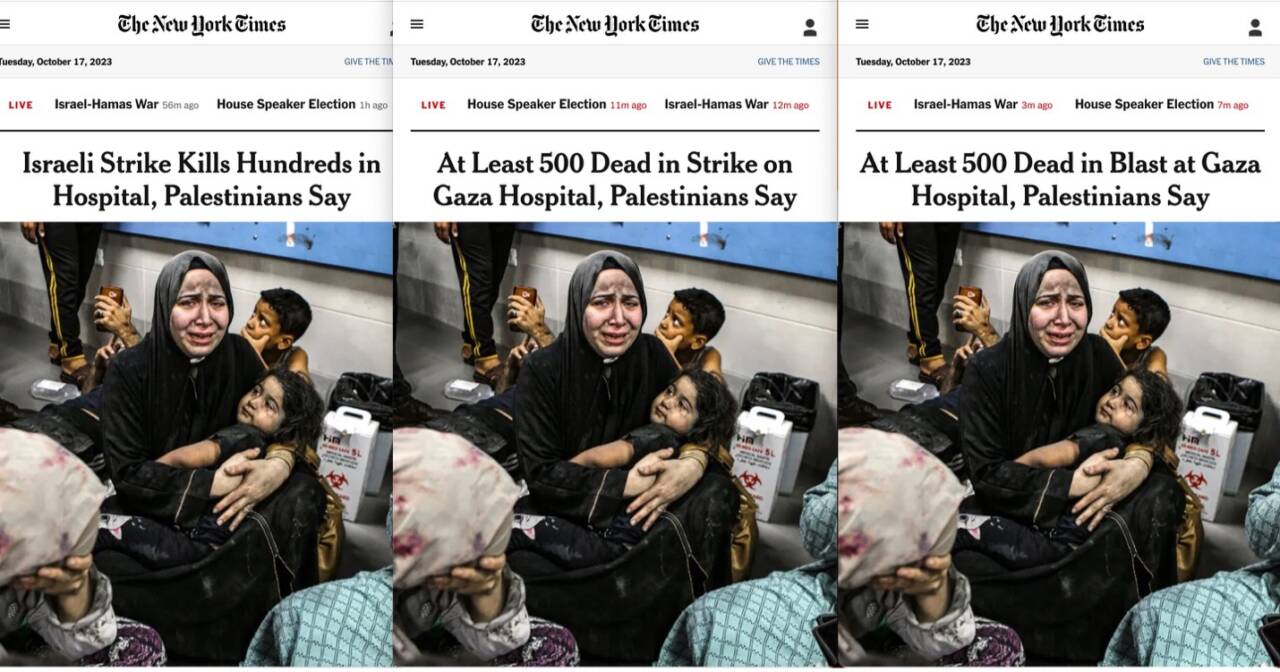 Not to be outdone, The New York Times published a piece titled "Israeli Strike Kills Hundreds in Hospital, Palestinians Say." As you can see above, the Times would later amend that headline to take out Israel on the third or fourth try.
Al Jazeera English tweeted a link to its live-stream coverage with the message: "Israeli air attacks have killed hundreds of Palestinians in al-Ahli Arab Hospital in Gaza City where thousands are seeking medical treatment and shelter from heavy bombardment."
And then there are other politicians, including, of course, Squad member Rep. Rashida Tlaib (D-MI). Remember, this is the same person who kept her mouth noticeably shut, repeatedly refusing to condemn the murders of Israeli babies by Hamas terrorists when a Fox News reporter got in her face. She couldn't muster one word of sympathy.
"Israel just bombed the Baptist Hospital killing 500 Palestinians (doctors, children, patients) just like that," Tlaib tweeted. "@POTUS this is what happens when you refuse to facilitate a ceasefire [and] help de-escalate. Your war and destruction only approach has opened my eyes and many Palestinian Americans and Muslims Americans like me. We will remember where you stood."
A similar, if slightly subdued, message was also put out by her pal Rep. Ilhan Omar (D-MN). "Bombing a hospital is among the gravest of war crimes," she tweeted. "The IDF reportedly blowing up one of the few places the injured and wounded can seek medical treatment and shelter during a war is horrific. @POTUS needs to push for an immediate ceasefire to end this slaughter."
The IDF Responds
The Israelis issued a statement initially saying, in part, that the Israeli Defense Force (IDF) was investigating and wanted to prioritize accuracy. At that point, a responsible journalist might have said let's take a step back and wait for more. But the seeds had already been sown and, man, were they dangerous. The people who hate Israel took the lack of an immediate denial as an admission of guilt. Or perhaps they just wanted to believe it.
Never mind that the IDF released its security assessment about two hours later, saying a barrage of rockets were fired by terrorists inside Gaza toward Israel and they passed in close proximity to the hospital at the time that hospital was hit. Israel understood quite early this came from Gaza.
Surveillance footage appeared to show a large barrage of rockets being launched from Northern Gaza at Israel, followed by a massive blast on the Gaza side. But there's more. IDF spokesman Rear Adm. Daniel Hagari came out and said it wasn't even Hamas that fired the rocket. It was the work, he said, of Islamic Jihad, which is another armed group inside of Gaza.
"I can confirm that an analysis of the IDF operational systems indicates that the barrage of rockets was fired by terrorists in Gaza passing in close proximity to the Al-Ahli Al-Mahdi Hospital in Gaza at the time it was hit. Intelligence from few sources that we have in our hands indicates that the Islamic Jihad is responsible for the failed rocket launch, which hit the hospital in Gaza. I repeat, this is the responsibility of Islamic Jihad that killed innocents in the hospital in Gaza."

– IDF spokesman Rear Adm. Daniel Hagari, October 17, 2023
We should say here Islamic Jihad is denying Israel's claim, saying it had no operations in the area. Weird. Where did all those rockets come from? Because we see them.
Israel has also released what it says is a roughly one-minute intercepted call between two Hamas operatives who discussed the rocket that landed on the Gaza hospital. In it, one man tells the other that "the shrapnel from the missile is local shrapnel and not like Israeli shrapnel."
Biden in the Middle East
Last night, President Biden released a statement about the incident that read, in part, "I'm outraged and deeply saddened by the explosion at the hospital in Gaza and the terrible loss of life that resulted and have directed my national security team to continue gathering information about what exactly happened."
He was already wheels up en route to Israel when we learned that a planned meeting he had in Jordan was suddenly off. So much for diplomacy. Good job, Palestinians. Good job, Islamic Jihad. You got what you wanted. In the meantime, Hezbollah declared Wednesday – the day of President Biden's visit – should be an "Unprecedented Day of Anger" against Israel.
Now in Israel, Biden met with leaders including Israeli Prime Minister Benjamin Netanyahu. This morning, he elaborated on who he believes is behind the explosion at the hospital:
"I am deeply saddened and outraged by the explosion of the hospital in Gaza yesterday. Based on what I've seen, it appears as though it was done by the other team, not you [Israel]. But there's a lot of people out there who are not sure, so we got… to overcome a lot of things."

– President Joe Biden, October 18, 2023
They're not sure. Why are they not sure? Because the media took the Hamas claim that Israel did it and ran with it ran with it. President Biden expected to speak by phone with the Egyptian and the Palestinian leaders who canceled on him. All the while, the fighting continues and Israel is said to be amassing some tens of thousands of soldiers preparing for a possible ground invasion into Gaza.
You can check out Megyn's full analysis by tuning in to episode 650 on YouTube, Apple Podcasts, or wherever you like to listen. And don't forget that you can catch The Megyn Kelly Show live on SiriusXM's Triumph (channel 111) weekdays from 12pm to 2pm ET.