Barstool Sports CEO Dave Portnoy wasted no time putting a reporter from The Washington Post on blast earlier this week after a sponsor of his upcoming pizza festival in New York City tipped him off to a seemingly negative article that was being written about him.
On Friday's show, Megyn and Dan Bongino, author of The Gift of Failure, discussed Portnoy's move and the state of journalism today.
Portnoy Goes on the 'Offensive'
Portnoy is the founder of Barstool Sports and the creator of One Bite Pizza Reviews, where he takes a single bite of a slice and gives it a score of one to 10. The ratings have taken on a life of their own over the years, and Portnoy is parlaying the success into the first-ever One Bite Pizza Festival. The event is scheduled to be held in Brooklyn on September 23 with more than 30 pizzerias participating.
On Tuesday, Washington Post food writer Emily Heil apparently sent an email to one of the sponsors of the festival questioning why they would partner with Portnoy given his "history of misogynistic comments and other problematic behavior."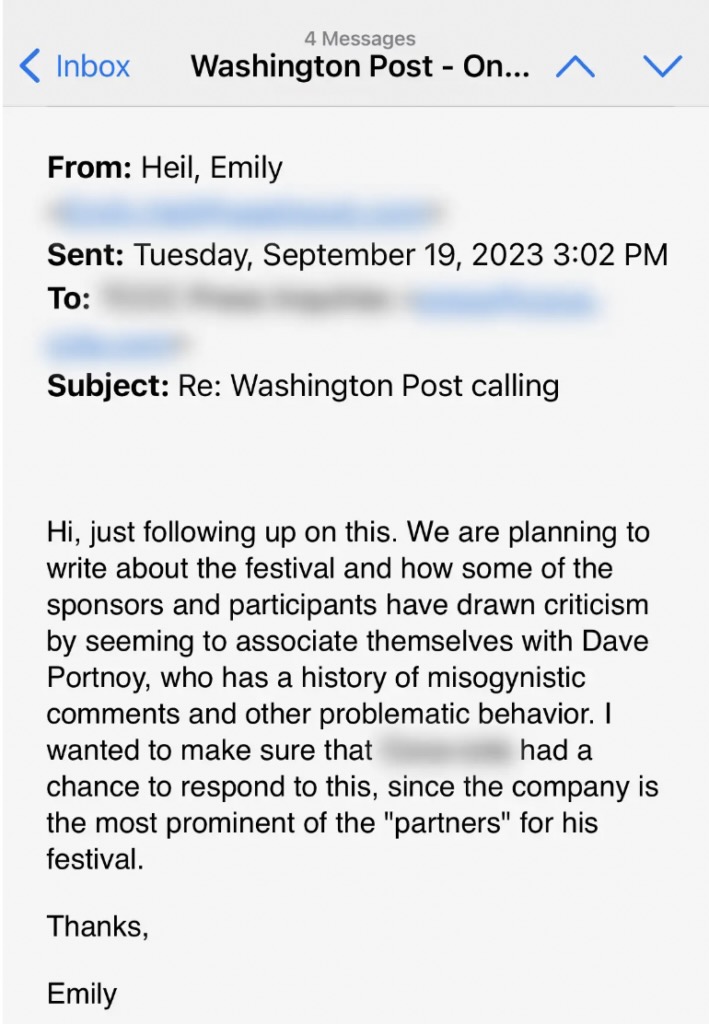 Rather than engage with Heil, the redacted sponsor forwarded the request for comment to Portnoy. He then wasted no time cold-calling the reporter himself. In a post on X (formerly known as Twitter), Portnoy shared a video recording of his phone call with Heil. "I caught wind that the Washington Post was writing a hit piece about me and my Pizzafest," he tweeted alongside the clip. "So I did what I do. I went on the offensive."
"I'm sorry, who are you?" Heil asks when she answers the call. "I'm Dave, the guy you are writing about," he responded.
Heil initially denied that she called Portnoy – who has faced sexual misconduct allegations – "misogynic" and "problematic" but was forced to backtrack once he read her the email. "Well, that email was the most pointed because I was trying to get a response," she claimed.
Over the course of the nearly 12-minute conversation, Portnoy questioned why Heil did not ask him for comment but rather went to his sponsors with defamatory claims about him. She said she was working with another reporter on the piece and had yet to come up with "specific questions" for him and attempted to defend the tactic. "I was hoping for a dialogue with them. Sometimes you have to say something – this is like, you know, it's sort of a reporting tactic," Heil said. "When you want someone to respond, you have to indicate that there might be something negative and then you get them to engage. That's all I was trying to do. I really wanted them to engage with me."
Portnoy was not buying it. "Anybody who's listening to this, to think that you were going to give me a fair chance when you're leading to our sponsors before you talk to me is crazy," he retorted. He surmised Heil's forthcoming "hit piece" would surely include "all this stuff you're about to make up against me."
The two eventually agreed to talk at 10am on Thursday, but Portnoy later shared on X that the call was canceled after the paper "proposed 5pm instead."
"What could suddenly be more important than this," he tweeted. "The article has to come out Friday. So they'd leave themselves a few hours before going to print?"
Reporting 101
Megyn took issue with Heil's claims that it is a "reporting tactic" to besmirch the person you are trying to write about in an effort to get quotes or comments for your piece. "Let me school you on something as an actual journalist: That's not what you do," Megyn said. "We don't run around defaming people, saying things you don't believe are true – which is what she is implying – just to get a response. That could actually get you in trouble in the civil courts."
Bongino noted this is something he regularly encounters as an equity holder in Rumble and said both Portnoy and Heil learned a lesson here. "Dave is not a conservative, so why is Dave an enemy of the liberal Washington Post," he asked. "The answer is it doesn't matter if you are a liberal or a conservative to the Washington Post; what matters is you know the hierarchy of power." Barstool refuses to conform to the traditional media structure, Bongino said, which is why Portnoy is "the enemy."
As Bongino explained, "pressure campaigns have been going on for years," and he believes the targets of such tactics have but one choice. "If you do not fight back, you will be a victim," he concluded. "Portnoy figured that out and that Washington Post lady figured it out too."
You can check out Megyn's full interview with Bongino by tuning in to episode 633 on YouTube, Apple Podcasts, or wherever you like to listen. And don't forget that you can catch The Megyn Kelly Show live on SiriusXM's Triumph (channel 111) weekdays from 12pm to 2pm ET.