Like so many people who came of age in the 1980s, Megyn was a fan of the sitcom Growing Pains – or, more specifically, she was a fan of the Seaver family's oldest son, Mike Seaver, who was played by then-teenage heartthrob Kirk Cameron.
When Cameron appeared on The Megyn Kelly Show for the first time last December, Megyn admitted that he was the only person she ever wrote a fan letter to. Sadly, she never received a reply. On Friday's show, Cameron, author of Pride Comes Before the Fall, was back and this time he was ready to make it up to Megyn with a special surprise.
Megyn Hearts Mike
As Megyn told Cameron in December, she had a childhood crush on him. "I'm sure you've heard this a million times, but you and I are almost exactly the same age… and I was like a tween when you were the big star on Growing Pains," she shared. "I was one of those starry-eyed young women."
She was so starry-eyed, in fact, that Cameron is the only person Megyn has ever sent a fan letter to. "I hand wrote it out," she recalled. "I remember I was trying to convince you to love me, and I was listing my credentials, like what I had done in school." Unfortunately, Megyn said she never heard back. 
At the time, Cameron joked that he was on the show in an attempt to make amends. "That's why I'm here on your show right now," he quipped. "It is to finally reply after 35 years and to say thank you."
Surprise!
Cameron was back on The Megyn Kelly Show on Friday to talk about his new book and how the American Library Association (ALA) is trying to censor his family-friendly events, but he also managed to pull off a fun surprise.
"Last December, we talked about how you had a childhood crush, and I think I was part of that," Cameron told Megyn. "I went digging around in the time vault that I have, and I found something that I thought you might like."
Since he didn't respond to her fan letter 30-plus years ago, Cameron decided to offer the next best thing. "I think I never wrote you back and I just thought I would try to make it up to you," he said. "I think I found one remaining Mike Seaver poster from 1986 and I signed it."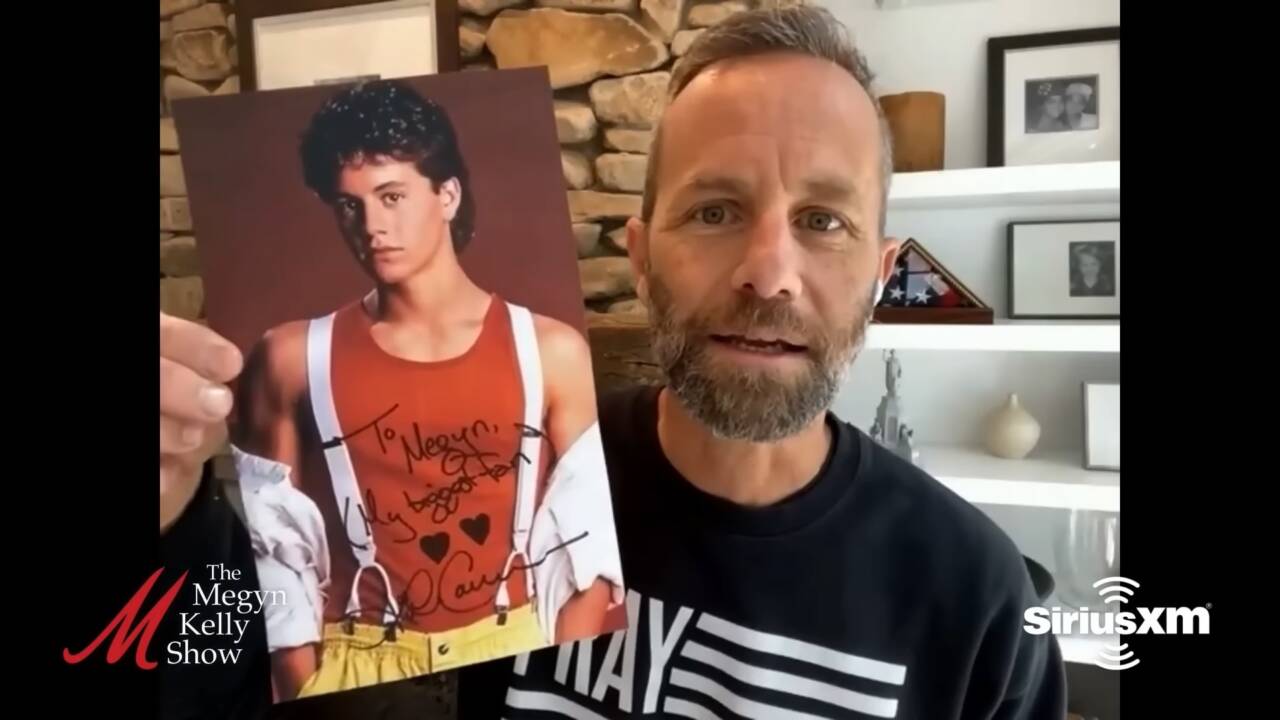 He signed the hunky headshot with a sweet message:
To Megyn (my biggest fan)
🖤🖤
Kirk Cameron
Needless to say, Megyn's 16-year-old self was having a moment. "I can die now," she said. "I am smiling from ear to ear, and that is going on the wall of fame right next to my basketball signed by Dennis Rodman. I love it."
You can check out Megyn's full interview with Cameron by tuning in to episode 583 on YouTube, Apple Podcasts, or wherever you like to listen. And don't forget that you can catch The Megyn Kelly Show live on SiriusXM's Triumph (channel 111) weekdays from 12pm to 2pm ET.