Israel entered Gaza as protests wrapped around the world over the weekend. I'm going to walk you through the developments that happened the last few days.
'Avoid the Area'
In Brooklyn on Saturday, some 7,000 protesters took to the Brooklyn Bridge as Jewish people were warned to avoid the area. This is New York. This is America. The answer from the NYPD or the authorities at Cooper Union where we saw Jewish students sheltering in a library should not be "avoid the area, Jews." It should be all hands on deck when it comes to the cops and security. Jews are welcome here just like in any square foot of this country because this is America. I don't understand this "Jews stay home." That's not the way forward. 
According to Fox News, one demonstrator told the crowd we are going to liberate Palestine, we liberated parts of it already, so get ready to get barbecued. In Union Square in Manhattan, friend of the show Julio Rosas posted a video of the protesters scaling the statue of George Washington while waving the Palestinian flag. The crowd chanted "Allahu Akbar" and at least one protester was heard saying "Long Live Hamas." 
Protests in Europe
Overseas, the images were just as dramatic. In London, there were around 100,000 protesters shoulder to shoulder in front of Big Ben for the third consecutive weekend. A sound system led people to chant "Stop Arming Israel," "Stop Bombing Gaza," and "We Are All Palestinian." In one video, a masked man is walking and waving the jihadist flag used by Al-Qaeda and ISIS.
Journalist Andy Ngo posted videos showing protesters chanting "Allahu Akbar" near the statue of Winston Churchill. In total, 11 people were arrested including two for assaulting police officers. In Istanbul, Turkey, President Tayyip Erdoğan told the crowd Hamas is not a terrorist organization. Israel is an occupier. Everyone then declared Israel "a war criminal."
Late Sunday night, truly terrifying videos began to emerge out of Russia, when a flight from Tel Aviv landed in the Republic of Dagestan. Pro-Palestinian rioters there stormed the airport and began openly searching and running after people they believed might be Israeli passengers from that Tel Aviv flight. They demanded to see people's passports and documents, breaking down doors, hoping to find the Israelis or Jewish citizens hiding in fear.
Think about this, you're yelling "Allahu Akbar." It means "Allah is great." Can you imagine? I'm a Catholic, so I understand Christianity. I can't imagine trying to hunt down a Jew, or a Muslim, or a Hindu, or a Buddhist to hurt them or kill them while yelling "God is great. My God wants this." This is so sick and twisted. 
There were reports that no Israeli citizens were on that flight, which seemed odd since it was coming from Tel Aviv. But overnight, The Jerusalem Post reported that indeed there were and the Israelis were hidden within the airport complex until police could control the riot. They were then evacuated by a helicopter to an undisclosed location. That is actually quite impressive, and one has to wonder how that happened and who was helping them.
Antisemitism at Cornell
Here at home, Jewish students were forced to hide in fear inside their dorm rooms at Cornell University in Ithaca, New York. This is an Ivy League that is a stone's throw away from where I lived the first 10 years of my life as a child and went to college at Syracuse University. This is unbelievable to me.
The campus is now on high alert after deeply disturbing messages were found online. One called for Jewish students to be followed home and their throats slit, saying rats need to be eliminated from Cornell. A separate message called for Jewish students to be raped and killed "before they birth more Jewish Hitlers." It's been over three weeks since the October 7 terror attack on Israelis.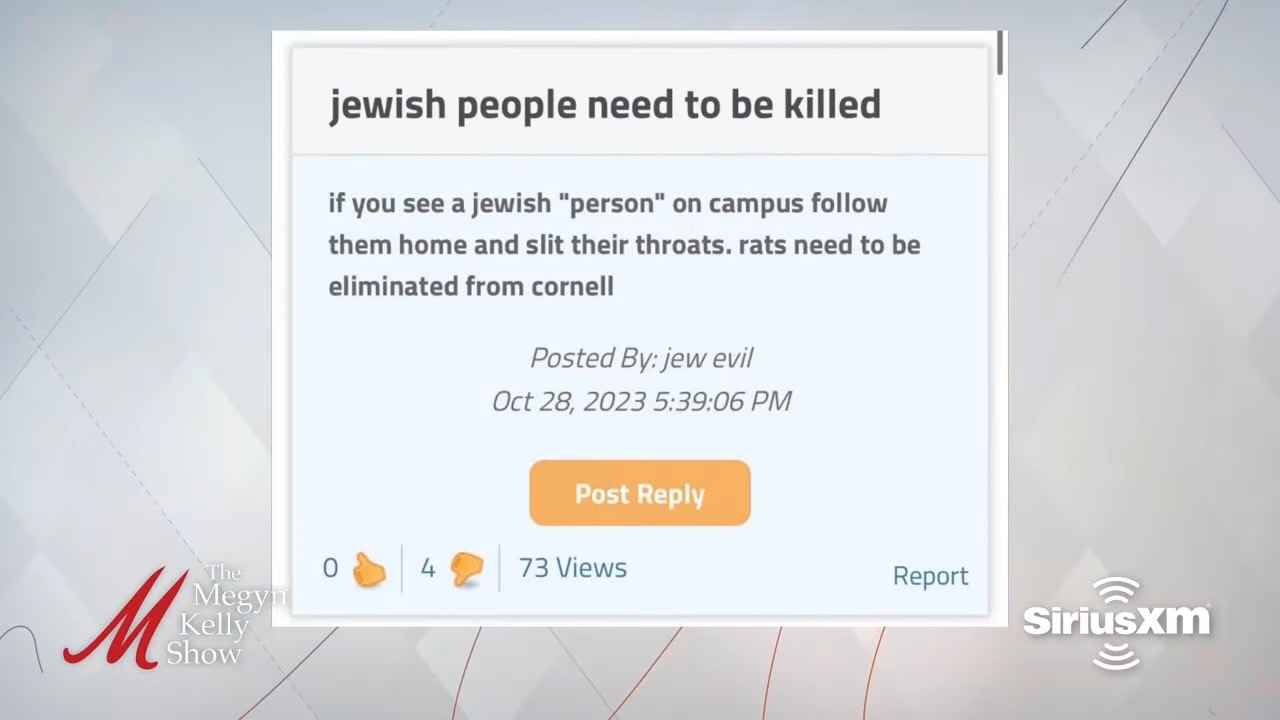 I have a young friend who's at Cornell right now. She's Jewish, and she and her mother cannot believe their eyes. She wanted to get a great education. She wasn't expecting to be targeted for her religious beliefs, for something happening a world away.
Content Warning
The terror inside the border kibbutz and at the music festival is now being felt worldwide by Israelis by Jews. And just when you think you know what happened that awful day, horrifying new details emerge.
I did something this weekend that I've never done with my team before. Prior to sending them a news link, I actually included a viewer warning. My team is all news people. We've seen the worst of the worst. But you can't just share something like this in a group text without a heads up that something terrible is coming. And if we start doing that, we've lost some more humanity. These casual references to the inhumanity of Hamas are not okay. We need to pause before we just dump this stuff on you, and you need to pause while you're reading X (formerly known as Twitter) or reading online the disturbing details of what Hamas did because it's soul shaking.
That is the reality of the story I'm about to bring you. So, if you care not to read, it now's the time to close out.
It's a story told by Eli Beer. He is the founder and president of the Jerusalem-based emergency response organization United Hatzalah. By all accounts, he has a stellar reputation. He's appeared on CNN, Fox, and countless other media outlets over the past few weeks. He recently met with President Joe Biden when he was in Israel.
On Saturday, at the Republican Jewish Coalition (RJC) conference in Las Vegas, Beer took to the stage and talked about the horrors he says he and his rescuers saw, which included – forgive me – a baby found in an oven:
Beer: I saw little kids who were beheaded. We didn't know which head belonged to which kid. I was crying for five days straight… I couldn't stop crying. Seeing little children, some of them had grandparents who were Holocaust survivors and they were murdered in a holocaust in Israel in 2023. Little babies, little children you couldn't even recognize if they were kids… We couldn't even recognize – we saw a little baby in an oven. They put them in – these bastards put these babies in an oven and put on the oven. We found the kid a few hours later…

October 28, 2023
There are just no words to describe what the Israelis went through. And all of this explains what we're seeing right now as they try to take out Hamas, the group behind that terror attack.
You can check out Megyn's full analysis by tuning in to episode 658 on YouTube, Apple Podcasts, or wherever you like to listen. And don't forget that you can catch The Megyn  Kelly Show live on SiriusXM's Triumph (channel 111) weekdays from 12pm to 2pm ET.