Dating etiquette has changed over the years, but a post on social media is dividing the internet over what exactly qualifies as an acceptable place to go on a first date.
A list of "places women absolutely refuse to go on a first date" has gone viral this week for its – shall we say – comprehensiveness. It includes everywhere from the movies to a bar to sporting events and is leaving many to wonder what's left.
On Thursday's show, Megyn ran through the list with the hosts of The Fifth Column – Kmele Foster, Michael Moynihan, and Matt Welch – and offered some important dating tips for men and women alike.
First Date No-Gos
The list – which has been making the rounds on X (formerly known as Twitter), Instagram, and the like – is apparently based on a survey that polled women about their least favorite first date spots. Some 28 places and activities made the final tally, including popular restaurant chains like Applebee's, Cheesecake Factory, Chili's, and Red Lobster and "any fast food chain."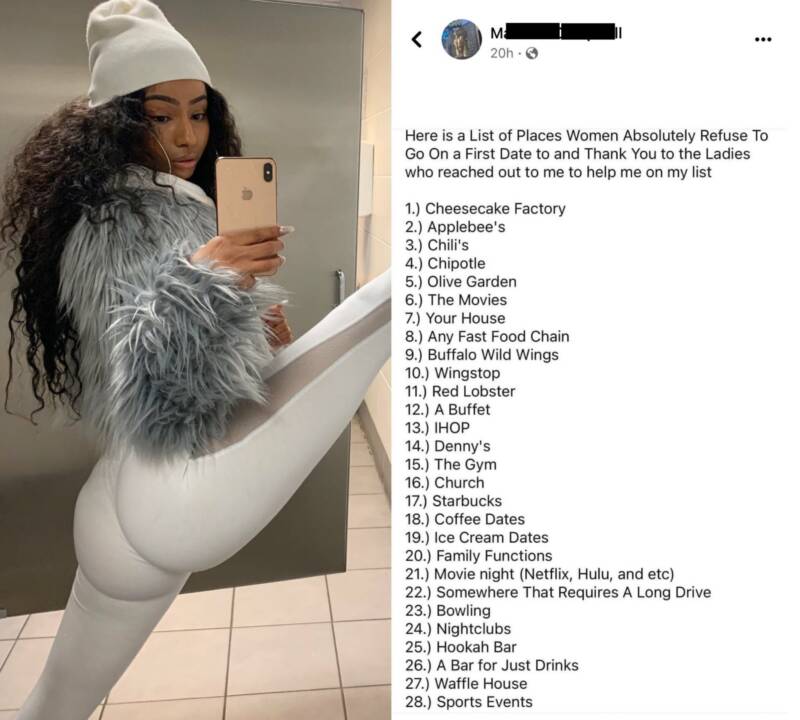 There are some on the list, like "your house" and Wingstop that Megyn said she could get behind. "I do agree with the wings one because no one looks hot eating wings," she said. "It's like all over your hands, it's all over your mouth… that's not sexy." 
But other no-gos – such as the movies, coffee dates, ice cream dates, bowling, nightclubs, and sports events – were more confounding. "Since when can you not go to a bar just for drinks," she asked. "That more than anything is what tells me she's high maintenance… She wants to make sure you spend."
Dating Advice
While Welch admitted that he's been out of the dating game for a while, he said it sounds like things have gotten too complicated. "I don't know what a date is, thank God, and I don't know which direction you're supposed to swipe, but it just sounds like a nightmare world right now of all kinds of rules," she said. "I remember back in the prehistoric era, when people like me were single, one thing we would do is meet people and talk to them in a real place. That's how the thing would happen."
Moynihan, for one, doesn't see the problem with a wings and church (another entry on the list) date. "Can I be honest? I was maybe leaving the Upper East Side Buffalo Wild Wings on our way to church," he quipped. "We were going to go to church and pray and I was just going to pray that something good was going to happen after we left church, but, you know, that's just me. I don't want to push that on anyone."
If that doesn't work for you, you might want to try this failsafe outing instead. "I usually just go to bars and we get drunk and we argue about Israel and Palestine and then I go home by myself," he joked. "It's super hot."
Foster, who shared that he and his wife met and started dating as teenagers, said men need to cut themselves some slack. "I took her to all those places multiple times… and it turned out fine," he noted. "I don't know what this young lady wants, but you have to be for something, sweetheart."
While he doubts the woman who shared this post has much trouble getting a date, he also doubts it goes much past the first one. "The reason they won't stay, boo boo, is because of you," he said. "Work on yourself."
Megyn, meanwhile, had a word of warning for the guys. "To this I say, you go for high maintenance on date one, you live with high maintenance the rest of your life," she concluded. "Good luck to you, fellas."
You can check out Megyn's full interview with The Fifth Column by tuning in to episode 656 on YouTube, Apple Podcasts, or wherever you like to listen. And don't forget that you can catch The Megyn Kelly Show live on SiriusXM's Triumph (channel 111) weekdays from 12pm to 2pm ET.