A prominent pediatrician at the American Academy of Pediatrics (AAP) wants to update how doctors talk to minors about their anatomy.
Ilana Sherer, MD, gave a presentation at the AAP National Conference and Exhibition in Washington, DC, over the weekend, in which she proposed swapping words like 'vagina' and 'penis' for "front hole" and "junk."
On Wednesday's show, Megyn was joined by The Federalist contributor Evita Duffy-Alfonso and Will Witt, author of Do Not Comply, to discuss the new terminology and why it is designed to confuse kids.
Language Learning
Dr. Sherer is a board certified pediatrician practicing in Dublin, CA, and serves as an executive committee member of the AAP's Section on LGBTQ Health and Wellness. On Sunday, she delivered a 90-minute presentation titled "Discussing Gender and Sexuality in the Primary Care Office" to provide advice on how to talk to pediatric patients about gender and sexual identity – including new terms for genitalia.
Slides from the presentation obtained by Manhattan Institute fellow Leor Sapir show Dr. Sherer proposed renaming "feminine parts" – including the vagina, clitoris, and breasts – "innie," "front hole," "d-ck or d-cklet (clitoris)," "T-penis," "chest/chesticles." The penis or so-called "masculine parts," meanwhile, could be referred to as "outie," "junk," "strapless," and "bits."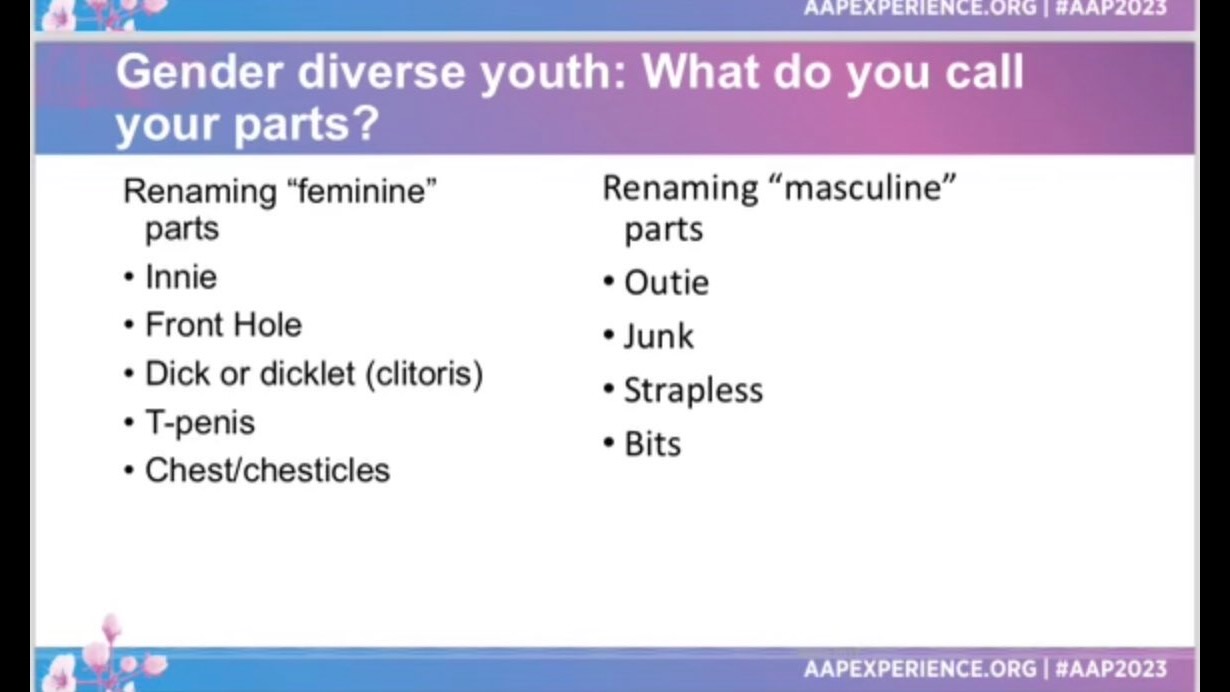 Dr. Sherer's deck also outlined how doctors can ask patients about their sexuality and gender. She recommended using "gender neutral language" and inquiring about preferred pronouns, gender identity, and sexual orientation. As it relates to the latter, she suggested asking kids if they are in an "intimate relationship" and what parts of the body they "have used for sexual pleasure."
The pediatrician was not speaking on behalf of the AAP during her talk and her recommendations have not been formally adopted by the organization – though it is not necessarily out of line with recent directives. In August, the AAP voted to uphold its 2018 guidance that supports access to counseling, hormone therapy, puberty blockers, and, in some cases, gender reassignment surgery for minors under the age of 18.
'This Is Absolute Madness'
Megyn called Dr. Sherer's presentation "insane" and "absolute madness," but that doesn't mean it isn't something parents should be worried about. Her kids are quickly approaching their teenage years, and she said her pediatrician recently mentioned that, at their next annual checkup, she will be asked to leave the room so the doctor can talk to them one on one.
In the past, one would expect that conversation to be about safe sex or drug and alcohol use, but Megyn said you can't be so sure anymore. "I've talked to a few people who've said, 'Don't let that happen because you don't know what you're getting,'" she shared. "Virtually all of these pediatricians have been captured by the American Academy of Pediatrics."
Duffy-Alonso recalled her own mom refused to leave the exam room when she was a teenager and has taken a similar stance with her younger siblings. "Why do we want adults talking to our kids about things that are completely inappropriate, that we would not want them to be discussing or thinking about," she asked. "When you introduce these ideas to young kids, suddenly they start to actually get confused… you're muddying the waters and making things difficult for them."
In Witt's view, words like "chesticle" and "d-cklet" show just how "unserious" scientific discourse has become in the United States, but he said simply calling out the absurdity is not enough. "We need to have strong… leadership around this country… people with a backbone come in and say these types of things are not going to be allowed to happen anymore," he concluded. "Scientific terms exist for a reason… to muddy all these waters… [is] undermining what hundreds of years of scientific research has done for human anatomy and humans in general."
You can check out Megyn's full interview with Duffy-Alonso and Witt by tuning in to episode 655 on YouTube, Apple Podcasts, or wherever you like to listen. And don't forget that you can catch The Megyn Kelly Show live on SiriusXM's Triumph (channel 111) weekdays from 12pm to 2pm ET.