There was a lot happening on Capitol Hill this weekend with the threat of a government shutdown looming, but the most head-scratching story of them all involves a former middle school principal-turned-progressive congressman and a fire alarm.
On Saturday afternoon, Rep. Jamaal Bowman (D-NY) pulled a fire alarm in a congressional office building shortly before the House was scheduled to vote on a government funding bill. The congressman and his office quickly dismissed the incident as an accident, while others speculated that he was trying to interfere with the vote.
On Monday's show, Megyn was joined by Dave Rubin, host of The Rubin Report, to take a closer look at Bowman's "mistake" and why he will likely face no repercussions.
Ring the Alarm
It was a high stakes weekend in the House of Representatives as members of both parties worked to get a deal done ahead of the midnight funding deadline. A stopgap spending measure was ultimately passed to fund the government for 45 days, but not before Bowman pulled a fire alarm in the Cannon House Office Building.
In the aftermath of the incident, the NYC Democrat framed it as nothing more than an embarrassing gaffe. In a statement released on X (formerly known as Twitter), Bowman said he was "rushing to make a vote" when he came to a door that is usually open. "I am embarrassed to admit that I activated the fire alarm, mistakenly thinking it would open the door," the statement read. "But I want to be very clear, this was not me, in any way, trying to delay a vote."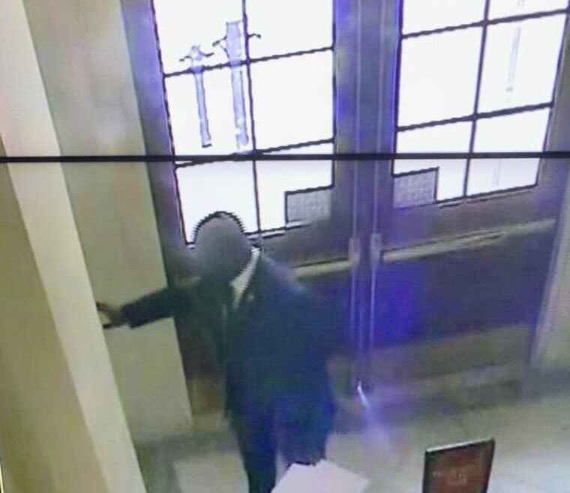 House Republicans were not buying it, with a growing number accusing the congressman of pulling the alarm as a tactic to delay the voting process.
On Monday, Bowman tried to brush off the controversy when confronted by a reporter. "You know, I don't know why this has gotten so much attention. I was literally just in a rush to go vote, man. That's all it was," he said. "I mean, listen, I'll take responsibility for what I did. You know, but like I said, I was in the rush to go vote. And, you know, [the] investigation will sort everything else out."
Capitol Hill Police said they were probing the incident and released a still image of Bowman pulling the alarm (above). The GOP-controlled House Administration Committee has also launched an investigation.
The Controversy
While Bowman's defenders have sought to blame his actions on the clarity of the emergency exit signage in the area and the excitement of the day, Megyn and Rubin were not so sure. "I mean, how many times have you been in a rush running down the hallway and the door is not opening so you just pull the fire alarm? That's a thing, right," Megyn joked.
In her view, it's hard to imagine anyone – let alone a former school administrator – would be unfamiliar with the ramifications of activating the alarm. "Even our little four year olds know 'fire' means you're calling the fire department because there's a fire – it doesn't open doors," Megyn noted. "There was no confusion. He pulled the fire alarm, and he knew very well what they were going to do."
While Rubin agreed that "anyone who's ever pulled the fire alarm in the history of fire alarms has known what happens when you pull the fire alarm," he doesn't see Bowman facing any discipline. "If anything, it will be a perfect example of 'Democrat privilege,'" he concluded. "He will become more famous because of it, and they will give him an even better job… because if you're a Democrat and you do something stupid, or illegal, or immoral, or completely insane, you fail up."
You can check out Megyn's full interview with Rubin by tuning in to episode 639 on YouTube, Apple Podcasts, or wherever you like to listen. And don't forget that you can catch The Megyn Kelly Show live on SiriusXM's Triumph (channel 111) weekdays from 12pm to 2pm ET.