Since the ill-fated partnership between Bud Light and trans influencer Dylan Mulvaney kicked off in early April, the brewer has seen its stock literally and figuratively drop. We now know the true impact the controversy had on the bottom line.
Bud Light's parent company, Anheuser-Busch (AB) InBev, reported this week that second quarter revenue in North America fell nearly $400 million year over year. The beverage maker attributed the sales hit to Bud Light, which also lost its status as the number one beer in the U.S. during that time period.
On Thursday's show, Megyn was joined by Andrew Klavan, host of The Andrew Klavan Show on The Daily Wire, to discuss Bud Light's ongoing woes and what they say about the larger cultural war.
Bud Light's Bottom Line
AB InBev released its second quarter earnings report on Thursday. It confirmed that U.S. revenue fell 10 percent, while U.S. retailers declined by 14 percent. The company blamed the slumping stats to the decrease in the volume of Bud Light sold. Looking at North America as a whole, revenue fell $395 million.
During Thursday's earnings call, InBev CEO Michel Doukeris admitted customers have soured on Bud Light. "One, they want to enjoy their beer without a debate. Two, they want Bud Light to focus on beer. Three, they want Bud Light to concentrate on the platforms that all consumers love, such as the NFL and music," he said. "We are taking the feedback and working hard to earn our consumers' business."
While he did not mention Mulvaney by name, he did allude to the controversy. "We've had three months so far since this situation, and we continue to learn and we continue to move forward with the main activities that we know work everywhere," Doukeris noted.
Doukeris told analysts that the company has been working with a third-party researcher since April to engage with upwards of 200,000 customers across the United States. Internal polling allegedly shows that 80 percent of U.S. consumers remain favorable or neutral toward the brand – though Megyn wasn't so sure. "People are saying it's done, it's not coming back," she said. "Bartenders and people who deal in the liquor industry are saying it's over; it's not rehabilitatable."
Joe Rogan Supports Bud Light?
On Tuesday's edition of The Joe Rogan Experience, Joe Rogan and country music singer Zach Bryan made headlines for cracking open cans of Bud Light and dismissing the controversy surrounding the brand. Back in April, Rogan similarly caught flack for drinking the beer on his show, and Bryan has also publicly defended Budweiser.
"We're drinking Bud Light, ladies and gentlemen," Rogan declared at the start of his broadcast. "There's nothing wrong with it." Seemingly aware of the backlash that was brewing, Bryan added "We're f–ked."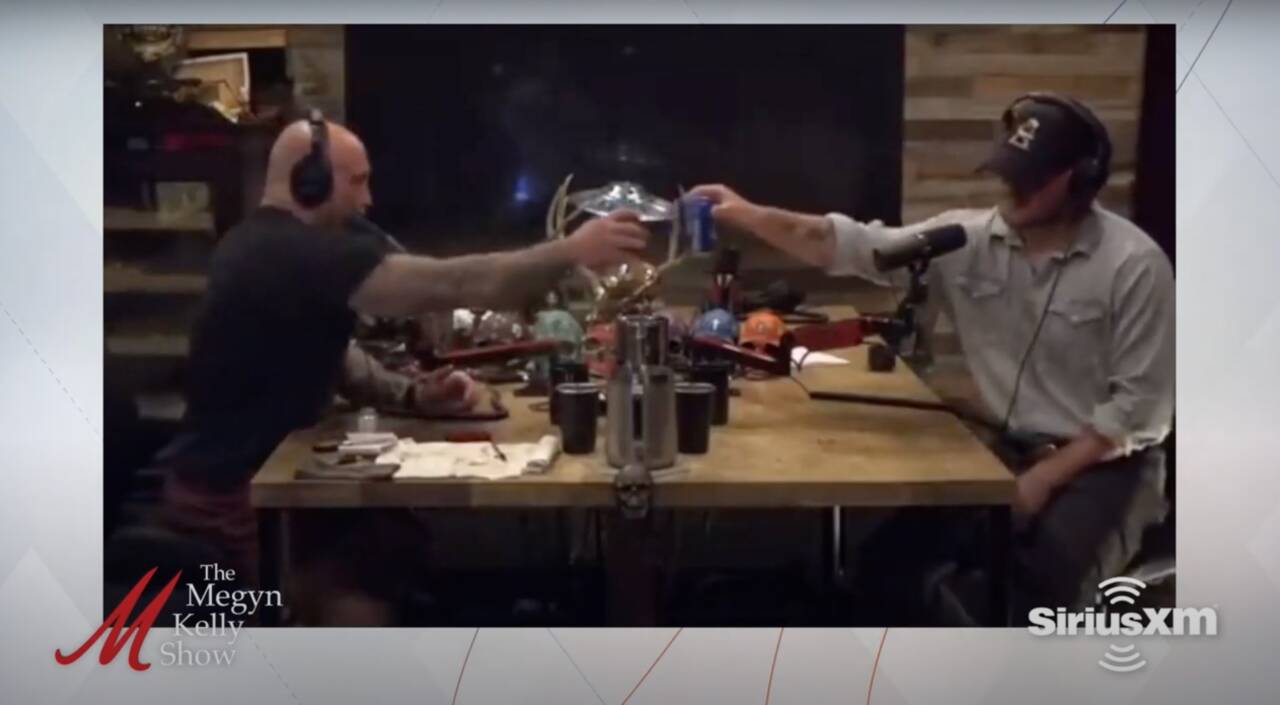 Both Megyn and Klavan agreed that the popular podcast host is on the "wrong side" of this issue. "If Bud Light actually were sorry about its one person sending one beer can to Dylan Mulvaney, we would have heard that," Megyn said. "[Anheuser-Busch CEO Brendan Whitworth] has never apologized… and most of us wouldn't be caught dead having a Bud Light now for very good reason."
Conservatives Enter the Culture War
The Bud Light backlash is unique, Klavan noted, because of how unifying it has been. "This is one of the cracks in the ice in the culture," he shared. "Conservatives are like wrangling cats – everyone has a different philosophy – but this time they spotted this… as an attack on femininity and attack on femaleness."
In his view, the ongoing dismissal of Bud Light dovetails with the recent success of indie film Sound of Freedom, which has managed to gross over $100 million at the box office despite following an untraditional path to release. "That's a major sign that shows that people are willing to turn up for good entertainment that doesn't toe the party line," Klavan said. "These little signs… are important of a shift in perception on the right."
It is important to remember that "we still live in a country where people have political power and economic power," Klavan said. "And so when these arrogant, corrupt folks come out basically saying to the people, 'Just keep your mouth shut because we can do this stuff whether it's constitutional or not,' the people have a tendency to strike back and say, 'Oh, yeah? Hit the road, Jack.'"
The U.S. has seen such situations arise throughout history. "That has happened a number of times in this country… and it can happen again," he concluded. "The country is not gone yet."
You can check out Megyn's full conversation with Klavan by tuning in to episode 601 on YouTube, Apple Podcasts, or wherever you like to listen. And don't forget that you can catch The Megyn Kelly Show live on SiriusXM's Triumph (channel 111) weekdays from 12pm to 2pm ET.