As we mark this Memorial Day, we are reminded of the selfless sacrifice our fallen military members and their families have made for the sake of our freedom. Today's culture seems to increasingly prioritize victimhood and weakness over resilience and strength in a way that is completely at odds with the ideals the United States was built on, and the mindset is invading both the military and society at large. 
On Monday's show, Megyn was joined by retired Navy SEAL Jason Redman to discuss the dangers of this victim mindset and why perseverance is a skill that needs to be learned and practiced.
How Jason Redman Learned Resilience
These days, Redman is known as a badass Navy SEAL who has inspired countless others with his bravery. Lieutenant Redman and his team were outside of Fallujah, Iraq on September 13, 2007 when they came under heavy fire. He and several teammates were severely wounded. While he was recovering from his injuries at Bethesda Naval Medical Center, Redman penned a now-viral bright orange message on his hospital room door that is now known as the 'Sign on the Door.' It read: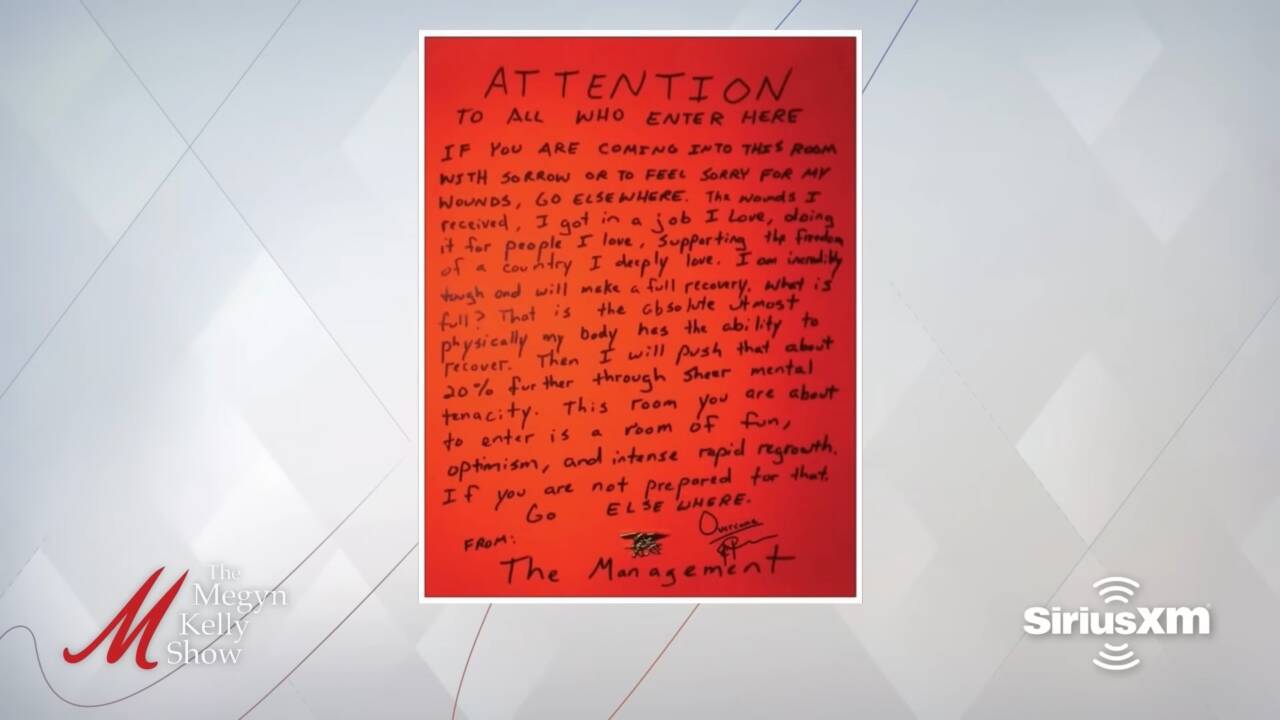 "Attention to all who enter here: If you are coming into this room with sorrow or to feel sorry for my wounds, go elsewhere. The wounds I received, I got in a job I love, doing it for people I love, supporting the freedom of a country I deeply love. I am incredibly tough and will make a full recovery. What is full? That is the absolute utmost physically my body has the ability to recover. Then I will push that 20% further through sheer mental tenacity. This room you are about to enter is a room of fun, optimism, and intense rapid regrowth. If you are not prepared for that, go elsewhere."
That message of resilience has come to define Redman, but he says he wasn't always that way. "I love the fact that when people read my book, they don't really know my story. What's out there is, 'Hey, this guy got all shot up, and he wrote that sign on the door, and he's this tough SEAL,' Redman explained. "What they don't realize is… I failed as a young leader. It was that journey building myself back up against really hard odds that really built the overcome mindset and all the leadership things that I talk about today."
America's Victimhood Pandemic
The COVID-19 pandemic might be over, but Redman believes the U.S. is still experiencing a different kind of crisis. "The pandemic is the victim mindset," he said. "There is a large swath of society that is being convinced you are a victim because there are political leaders that want to convince you – regardless of your race, creed, color, demographic, gender persuasion, religious affiliation – you're a victim and that there's no way you can save yourself."
Megyn agreed that young people, in particular, are being barraged with that kind of messaging. "[They are] listening to, 'You're weak. Lean into your weaknesses. Everyone's sick. Everyone's depressed. Everyone's near suicidal. Here's another poll to confirm all that. Go back on social media to make yourself feel better/worse,'" she said.
People are also being told that the 'solution' to these problems requires government and/or societal intervention. "Someone else has to save you or, oftentimes, it's only the government that can save you – which is scary and a dangerous thought itself," Redman noted. "Everything I teach on is on self-leadership. You have the power to drive forward and create change in your life, and it is the exact opposite of the victim mindset."
The issue, as Redman sees it, is that the victim mindset has become ingrained into the culture. "It is pervasive across social media; it is pervasive in the media," he said. "We've got to break this."
Individualism in the Military
In the military, Redman sees this concept manifesting as a dangerous trend toward individualism. "I believe in self-leadership, but you have to be part of something bigger," he explained. "A military unit is working together… There's no room for individualism." Regardless of "race, creed, color, gender," everyone must be able to trust and depend on each other, he added.
He fears certain segments of the military have drifted away from that. "The military should always be apolitical with a singularity of focus, which is to protect and defend our nation against all enemies," Redman said. "Its [focus is] not highlighting whatever is going on in society out there. Those are political aims."
Those "political aims" may be sowing seeds of division. "Now you're creating separation; you're creating a line of distrust; you're creating potentially even a level of hatred, which is not going to further that unit," he cautioned. "It's all about culture. It's all about trust. It's all about respect for each other that we are equal warriors that are trying to get out there and make something happen." He called the current situation "disheartening."
How to Build a More Resilient Culture
As Redman explained, America was built on the values of "resilience, grit, and self-leadership" through people who came to this country determined to find a way and overcome. "Right now, we're not there," he said of today's culture.
Instead, we're in a me-first mindset. "I learned the hard way about individualism because when I got myself in trouble as a leader, it was about me," Redman said. "I think there's a lot of that going on in our country right now." He emphasized that you have to take care of yourself, while also taking care of others. "How do you set the example for your staff, your employees, your children, your spouse, your family, your community," he asked. "We need more leadership and we need more grit."
Ultimately, Megyn said that Redman's voice and experience is needed now more than ever. "This is what our children need to be watching and listening to – guys like you with that same messaging," she concluded. "They need to be watching your Insta, Jocko Willink, all these guys who have been through it about grit and mental toughness because it is a skill… and you have to practice it."
You can check out the full interview with Redman by tuning in to episode 560 on YouTube, Apple Podcasts, or wherever you like to listen. And don't forget that you can catch The Megyn Kelly Show live on SiriusXM's Triumph (channel 111) weekdays from 12pm to 2pm ET.