Fox News ratings have been in a freefall since parting ways with Tucker Carlson last month, and now it seems as though the beleaguered network is trying to right the ship. On Wednesday, the Drudge Report published what it called a "world exclusive" scoop on the "ambitious" new Fox News primetime lineup that reportedly sees two hosts moving into the coveted time slots.
Megyn reacted to the news on Wednesday's show and explained why she does not believe the alleged shakeup will be enough for Fox News to regain its viewership.
What the New Primetime Lineup Might Look Like
According to the Drudge Report, Sean Hannity and his Hannity program will move from 9pm to the 8pm time slot previously occupied by Tucker Carlson. Since Carlson's departure, Fox News has been airing Fox News Tonight at 8pm with a rotating cast of hosts, including Brian Kilmeade, Lawrence Jones, Kayleigh McEnany, and Will Cain.
The report also notes that Jesse Watters and Greg Gutfeld will move into primetime, which generally refers to shows that air at 8pm, 9pm, and 10pm. Currently, Watters hosts Watters' World at 7pm and Gutfeld's late night show Gutfeld! is on at 11pm. This new lineup does not appear to include Laura Ingraham's Ingraham Angle that, as of now, airs in primetime at 10pm.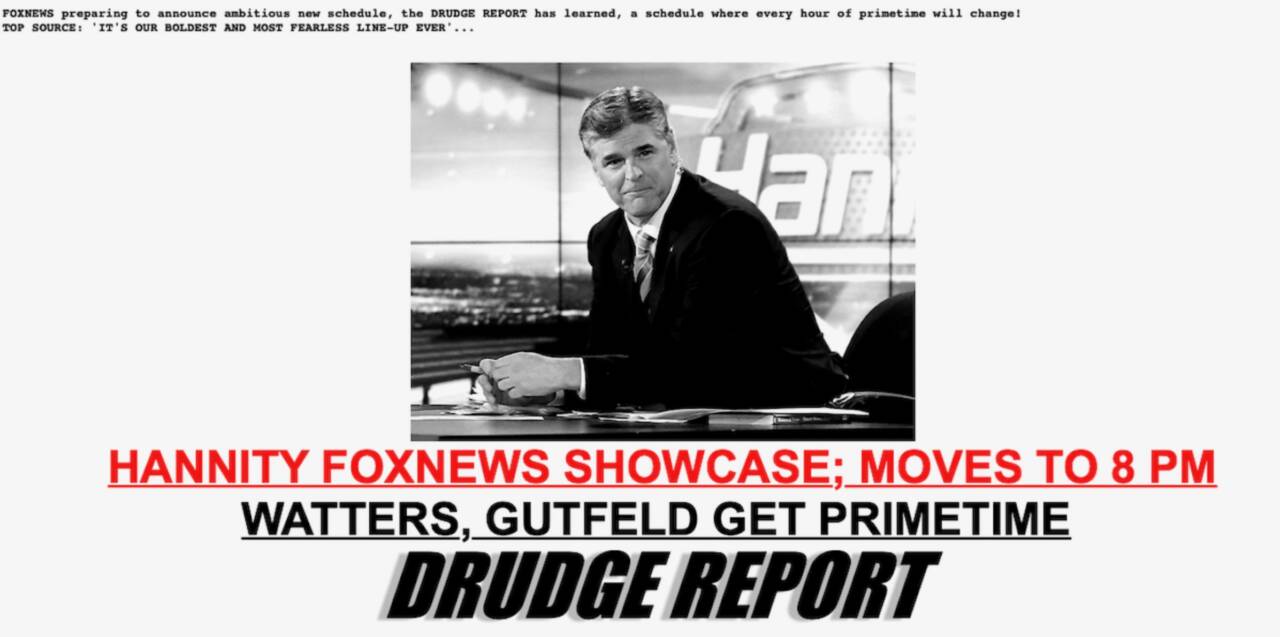 When Mediaite reached out to Fox News about the purported shakeup, the network denied any changes were imminent. "No decision has been made on a new primetime line-up and there are multiple scenarios under consideration," a spokesperson said.
If history is any indication, however, Megyn believes there is credence to the Drudge Report scoop. "I'd be surprised if this were wrong… Drudge always has the leaks on the line up changes there," she explained. "He certainly had the one when I moved to primetime long before anybody else did, and he's got impeccable sources inside the building."
The Ratings Fail at Fox News
The ratings clearly indicate the status quo is not working for Fox News. When you look at the four weeks prior to Carlson's departure, the Tucker Carlson Tonight host was averaging 3.3 million total viewers and about 430,000 in the key advertising demo of 25 to 54 year olds. Flash forward, and the 8pm time slot is now averaging 1.5 million overall and 152,000 in the demo. Hannity's 9pm show has seen double-digit declines as well.
"They need to do something, but I will submit for the record this isn't it," Megyn said. "They need a voice like Tucker's… and even that's probably not going to do it because the audience is very angry and they miss Tucker."
You can check out the full show by tuning in to episode 552 on YouTube, Apple Podcasts, or wherever you like to listen. And don't forget that you can catch The Megyn Kelly Show live on SiriusXM's Triumph (channel 111) weekdays from 12pm to 2pm ET.